Flashback for Kubernetes
Marry Kubernetes and container context with eBPF workload activity to visualize your cluster's every moment.
The Kubernetes time slider presents the actual runtime execution within and across the cluster at any point in time, even months prior.
Facets allow an operator to focus on a specific cluster, namespace, service, deployment, or pod.
In and outbound network connections are shown, and grouped based on common destinations or sources.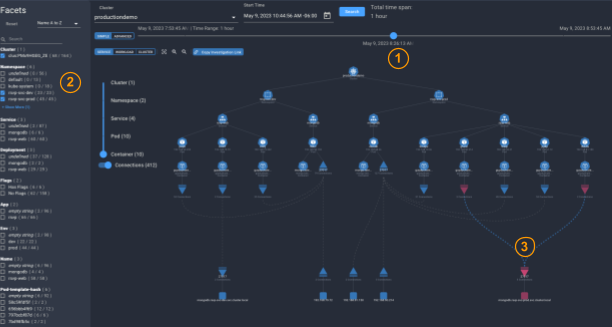 Flashback for Workloads
View a complete visual history of what caused what, even if separated by systems, user sessions, and long period of time (e.g. months)
Causal Tree presents the process lineage of host and container activities, including what processes generated or received network connections.
Gray badges present the effective user rights.
View 'relative time', in this case the eksctl command occurred one hour after the ssh command.
Detailed information presents stateful details such as environmental and command-line variables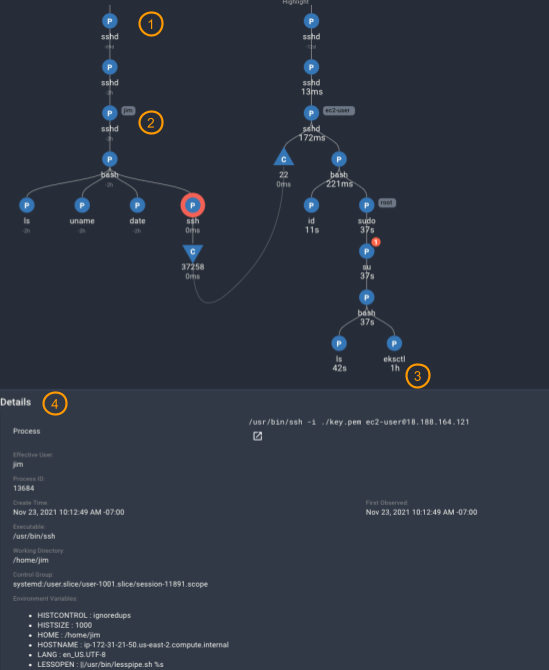 Flashback Search
Pinpoint the root cause to any situation by searching across the entirety of Spyderbat's Behavioral Context Web.
Immediately create powerful searches with Spyderbat's built-in query assistant.
Search as broad or narrow as needed, with data automatically stored for up to 90 days.
Combine results into a single investigation window.